Boosting Your Business: The Power of Smartphone Refurbishing with Securaze Mobile

Jennifer Heiss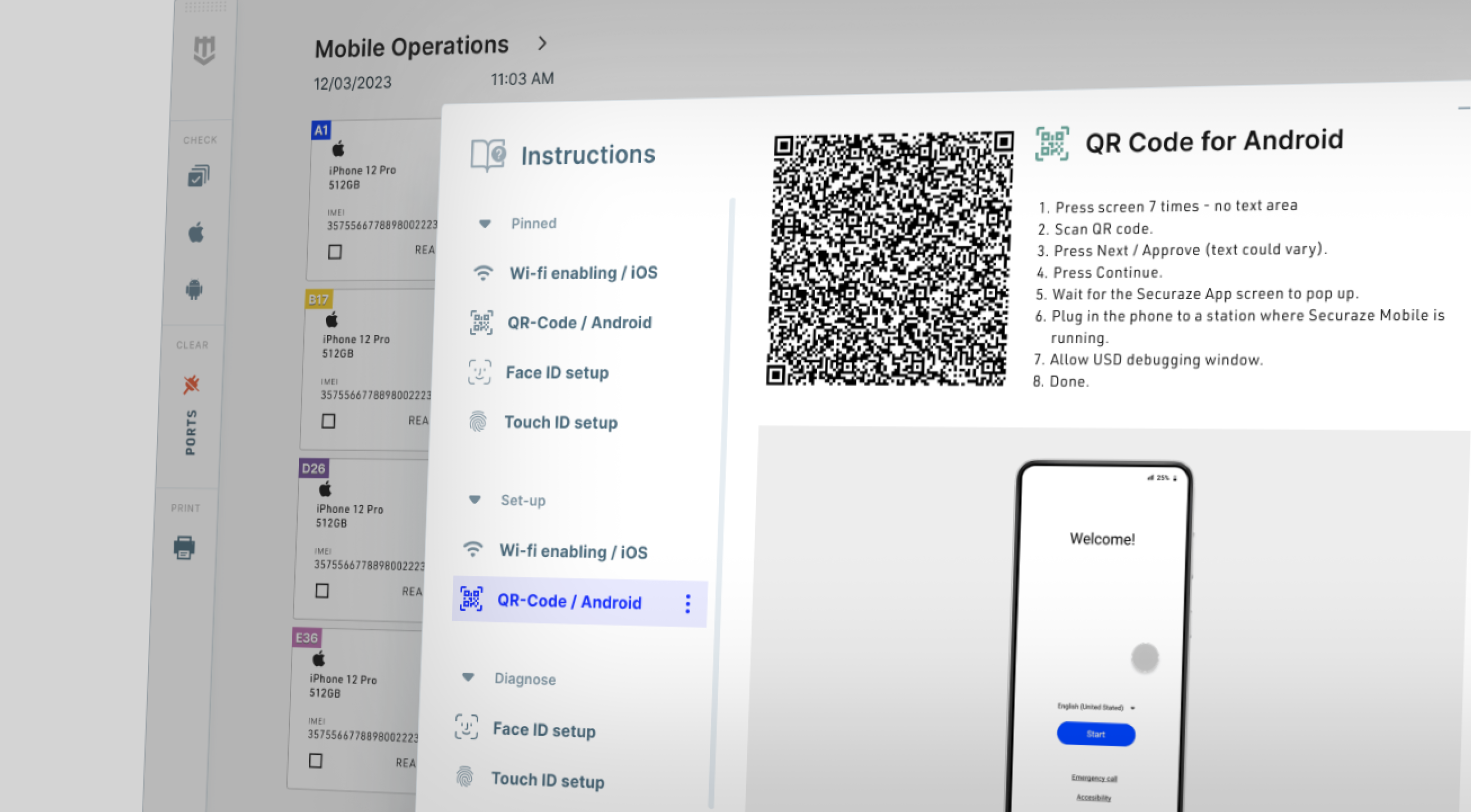 Securaze Mobile has long been synonymous with secure data erasure in the mobile industry. In our relentless pursuit of innovation, we are proud to present the most recent developments in Securaze Mobile, introducing a new era in secure management of your mobile devices.
In this article, we will unveil the exciting features and advantages of the latest Securaze Mobile, designed to help you navigate the complexities of data security, device diagnostics, and resale in today's digital landscape.
Smart Device Diagnostics: A Game Changer
Traditionally known for data erasure, Securaze Mobile now takes a bold step forward with the introduction of the Smart Device Diagnostics feature. This functionality allows users to conduct comprehensive analysis of mobile devices, whether they're smartphones or tablets. It's an opportunity to check the functionality of key components and swiftly identify any defects that may be lurking. Once the analysis is complete, a tamper-proof report is generated, offering a detailed overview of the device's condition. Importantly, this diagnostic capability extends to locked devices, including those secured with Find My iPhone (FMiP), Pin Locks, and Sim-Pin. Through Mobile Device Management (MDM), even locked devices can undergo diagnosis. Moreover, we've introduced an option to maintain a WiFi connection during diagnosis, ensuring internet access remains available post-diagnosis when needed.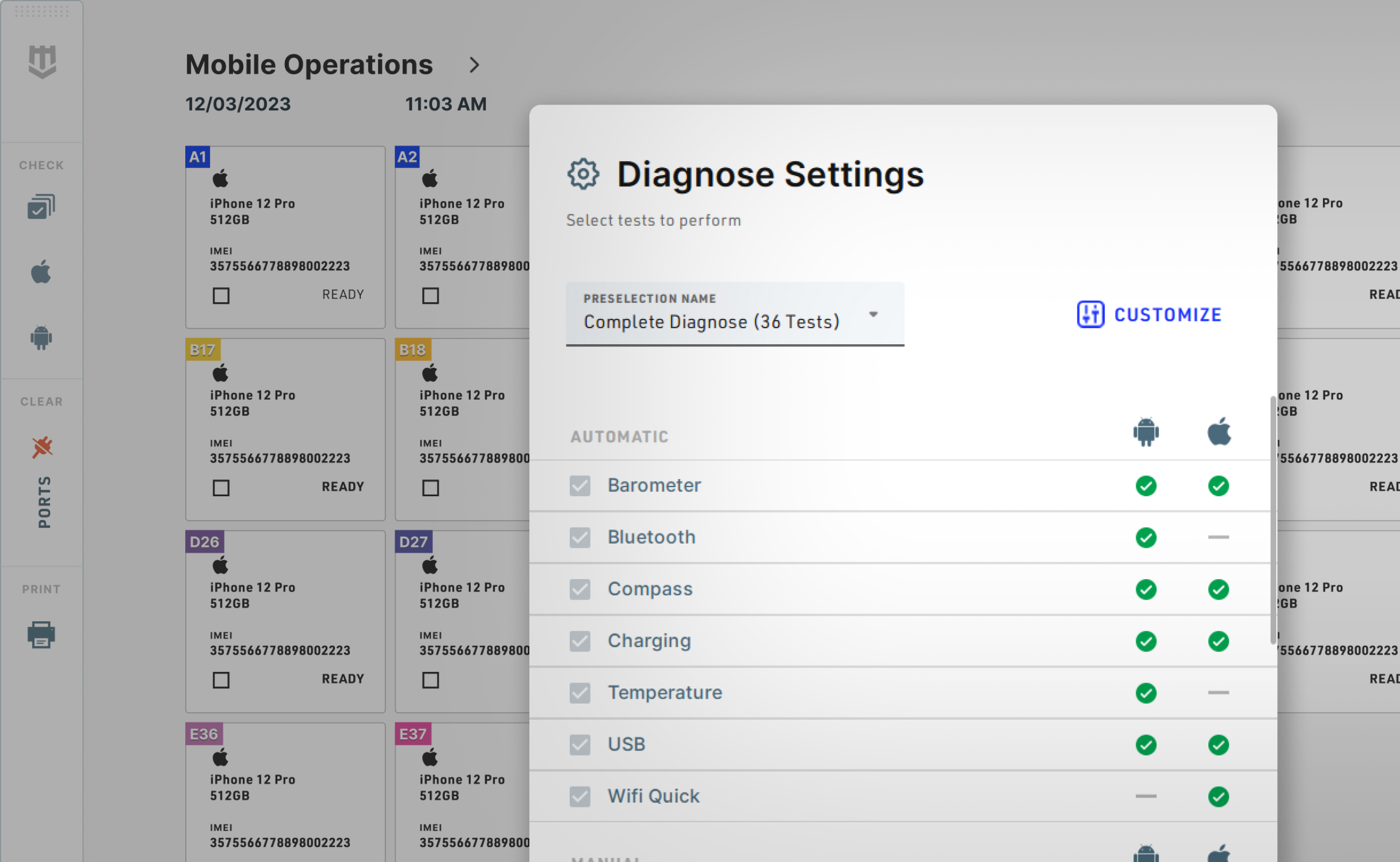 Streamlined Operations with Autostart Features
Efficiency is paramount, and that's why the Securaze Dashboard now boasts Autostart Diagnose and Autostart Erasure options. With Autostart Diagnose, the diagnostic process initiates automatically upon device connection. Similarly, Autostart Erasure ensures that device erasure commences without manual intervention. In this case, a warning is displayed at the start of Mobile application, so no accidental erasures happen.
Enhanced iOS Capabilities
Securaze Mobile's iOS capabilities have seen substantial improvements. Now, you have the power to force device activation, even for devices on the "Hello" screen. This feature enables operators to trigger FMiP and MDM status updates, providing an accurate reflection of each device's current state. Furthermore, iOS OEM part validation has been refined to deliver precise device assessments, offering reliable information for informed decision-making.
Unparalleled Compatibility
Securaze Mobile now extends its support to cover all Apple Silicon M1 and M2 models, ensuring comprehensive compatibility across Apple's latest innovations. Additionally, it's compatible with all 64-bit Android devices, embracing the diversity of the mobile landscape. Choose from three distinct application modes—"All," "Diagnostics Only," and "Erase Only"—to tailor the application to your specific needs. This customization minimizes operator complexity and streamlines device management.
Operator Empowerment and Automation
We've empowered operators further, granting them the ability to make hub settings and layout adjustments. Moreover, you can opt for automatic station shutdown, allowing stations to be powered down based on your preferences, as configured in the Securaze Dashboard.
Enhanced Visualization and User Experience
User experience is at the core of our improvements. The latest software version introduces a lock icon for locked settings in Mobile Ops, providing clarity when no user is logged in or when operators have limited rights. Hover functionality is another noteworthy addition. Simply hover your cursor over the diagnose and erase buttons to access quick details, facilitating swift and informed decision-making.
In conclusion, the latest Securaze Mobile represents a significant leap forward in secure data management for mobile devices. With robust diagnostics, streamlined operations, and expanded compatibility, it empowers organizations to navigate the ever-evolving mobile landscape with confidence.
For more information about Securaze Mobile or to explore our comprehensive suite of solutions, please visit our website at www.securaze.com.